BACKGROUND
My food-related blog posts start with gluten-free and lean toward allergen free. My daughter is sensitive to many (not all) of the foods on the list of the big 8 allergens. Feeding a family when one of you has special food challenges is complicated. For years, I have been searching for recipes that I can serve all of us so that I do not have to make a special meal for the child with food issues.
We moved across the country in April and I lost access to a lot of gluten-free and allergen-free products. The area we moved to is very backwards in terms of gluten-free and allergen-free compared to the area we left. I am shopping in stores that I'd never even heard of before we moved, still trying to become familiar with what each store is and has to offer.
Additionally, I am looking for recipes and ideas that I can make for the entire family. I am tired of running what is the equivalent to a coney-island type restaurant out of my kitchen. I am not a short-order cook, although I seem to be playing one at home most days.

When the opportunity to review e-Mealz came along, I was thrilled, and got in line to offer to review it.
What is it?
e-Mealz is an online subscription to a weekly menu plan, recipes and grocery lists designed to make meal planning easier, simpler, and cost effective, with meals planned around store sales.

Subscription options vary to include some specific stores and some general lists, with pricing varying, too, although pretty much any 3-month subscription is $15.

Menus for the week are two pages long, black & white, simple to print, don't require a lot of toner. The first page holds seven dinner options, one for each day of the week, with recipe/how-to instructions. The second page has the shopping list that includes the staples you should have (and not have to buy) along with recipe ingredient proportions (which allow you to see if you have that much mayo in the refrigerator).
I hoped e-Mealz would be a partial answer to my challenges of special diet and being a newcomer to the area as I try to learn my way around the grocery stores here.

I had hoped for more whole food cooking. That seems to be the type of cookbook that supplies the most variety for a family with lots of food challenges.
I knew going into the review that I wouldn't find every recipe useful. I am accustomed to making substitutions in recipes. I am skilled at quickly scanning recipes to rule out those that rely on ingredients that I am unable to substitute.

I had hoped that the e-mealz people understand that many folks who are gluten free are also dairy free, too. I had even hoped that the e-mealz people understand that many folks who are gluten free are also sensitive to other common allergens.
My hopes are dashed.

I am disappointed in a major way. e-Mealz is not for me. e-Mealz is a waste of time and money for me.

If your family has no food allergies and is not picky, you may like e-Mealz. If you are
only
gluten-free, you may like it. But if you have gluten-free plus anything else (particularly dairy or nightshades), it is probably a waste of time and money.
A problem right off the bat: I set up my subscription (pretty simple, although the site kept asking me for payment info when I was using a free-trial code, which is bothersome, but I did find a way around giving them cc info) and looked over the meal plans. Subscribers pay individually for each different subscription. I thought I'd be able to compare plans to pick and choose what works for our situation. WRONG. I had to choose
one
subscription. Additionally, within a 3-month subscription period, I may change plans just one time. So, if you're like me, with a list of foods to avoid, you can plunk down $15 and be stuck seeing just two subscription plans with neither being something you can actually use at your house.
I chose the Kroger plan for my new area. We have a long list of foods to avoid and foods we limit, and when I looked over two weeks of Kroger menus, my heart sank. Pretty much useless. The recipes require things I can't use or we don't like: Dairy (the e-Mealz folks use
lots
of dairy), tomatoes, Mexican, onion soup mix, gluten... in the first 14 meals I browsed, there exactly two that I might use (pre-cooked ribs or chef salad). Not a positive sign.
As soon as I viewed the Kroger plan, I wanted to switch plans - but I get just one opportunity in a 3-month subscription to switch plans - so to
what
? e-Mealz suggests that I look at partial samples for each subscription (just three meals - disappointing, because I need to see more than that) and everything I look at uses lots of things I can't substitute (cream cheese, shredded cheese, cottage cheese, cream of something soup, sour cream) or things we limit (tomatoes - the menus seem to use
lots
of tomatoes). I see a lot of shrimp and pork, too, items we limit because they're unhealthy. (There is no option to remove pork or bottom-feeders from a week of menus. I am a little bit spoiled by the sites that allow me to eliminate items I don't want in a recipe search.)
The e-Mealz idea is a good one. The problem is that e-Mealz is not allergen-free friendly. e-Mealz isn't trying to be all things to all people. They are providing a service to families who have no food allergies or intolerances or picky eaters and who are able to feed families from sale flyers from the grocery store.
I contacted e-mealz to try to get insight before I used my one opportunity to switch programs. They were not very helpful. I wanted to know if there is a plan that is more whole foods in nature, with less dairy. There's not one, apparently.
I switched to the gluten free plan. The e-meals people are very literal. The menus are gluten free. And that's it. They offer no consideration for the fact that many gluten-free folks are sensitive to milk/dairy and other allergens as well. The do not have an understanding of foods for which there is no substitution. They use just as much cream-of-something soup, sour cream, shredded cheese, cottage cheese, etc etc etc, as in the Kroger version. Lots of Mexican recipes. (yuck-yes, a personal preference)
I need a whole foods version, I think. Whole foods cookbooks seem to require the least substitutions for me.
Go here to see samples (just three meals per subscription plan) to determine if these are meals you could make for your family. If you don't absolutely love the samples, don't waste your money on the program.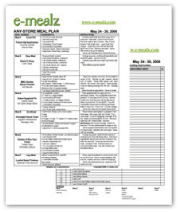 I could really, REALLY use a meal planner to help me simplify. I am looking to build a repertoire of recipes for a month or six weeks to rotate. Autism and special diets bring challenges that I'd like to simplify and I'd hoped e-Mealz would give me some assistance. Families with special circumstances could benefit from a planning tool like this one. But e-Mealz is for families
without
the special diet circumstances.
To read my Crewmates' experiences with e-Mealz, go here.

I was given a 3-month subscription of e-mealz to review here on my blog. I was not paid for this review. I am not obligated to provide a positive review.