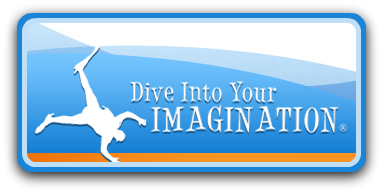 We were given a DVD from Dive Into Your Imagination to review for our homeschool.
Dive Into Diversity
is an under water adventure of sorts, presented in short video tracks on a DVD.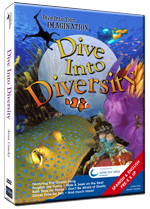 I want to say right up front: AUTISM FRIENDLY. My child who is on the autism spectrum has a long list of co-occurring conditions that complicate learning, and this DVD seems tailor-made for her. The segments are short (10ish minutes). They are very visual. The narrator speaks slowly and the narration is, how do I describe this?, minimal. The narrator does not cram too many facts, too much information, into a segment. The narrator uses a speaking pace that works well for children with auditory processing challenges, who need processing time, without feeling too slow. I have the option to TURN OFF the narration to allow us to watch just the visuals, too. And I have a Spanish option as well (a sib at my house wants to learn Spanish - what a great way to practice!)
Yes, when we began using the DVD, I gushed over it. Simply put - it is perfect for my learner who is a bit older who is academically delayed. Short segments, beautiful visuals, just-right narration: sweet!
Dive into Your Imagination and Annie Crawley offer educator guides to accompany the DVDs. The educator guides are quite comprehensive and you may choose the guide to go with your child's grade level. We dabbled with the guide for children younger than my homeschooler's actual age and with guides for her age - some of the activities for younger children are just inappropriate (she doesn't want to flop around like an invertebrate, for example). I love that I can grab the guide for her developmental level or combine two guides to accommodate her unique learning needs.
The DVD is priced at $19.95 and samples from the videos are available
here
. The educator guides to accompany the DVDs are $69.95 each - BUT if you mention in the comments section that you homeschool, Annie Crawley will send the educator guides to you free. For the entire month of May and June, there will be free shipping with any order placed at
www.AnnieCrawley.com/store
in honor of my followers.
I was given the Dive Into Diversity DVD and the educator guides at no charge to me to review here. I was not paid for this review and am not obligated to provide a positive review.
To read my Crewmates' reviews of this product and other selections from Dive Into Your Imagination, please go
here
.