I knew I'd love this book.
We already own
a Gary Bower book
. My school-building school kids met him when he was a featured author at their school a few years ago. I wasn't able to attend his presentation at a homeschool convention in person, so I purchased and listened to the audio recording of it on the way home from the convention. The Bower's, Gary and Jan, rank pretty high on my list of treasured authors and illustrators.
From the Bright Future Series, which includes
There's a Party in Heaven
and
What Do Heroes Wear
, the Bowers bring us,
The Person I Marry
.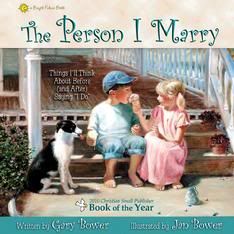 My family members were given a digital version of "The Person I Marry" to enjoy and review. The book (like all of the others by the Bowers) is
beautiful
. My homeschooler is asking about growing up and getting married and being a mom. This book came at a good time. It is full of descriptions (aka vocabulary words) of what makes a good mate, for starters, approachable; tender; gentle; kind; courteous; tactful; gracious.
You're going to want one for your family. The book would make a lovely gift to a family with young children or to a church library or Sunday School classroom.
Please take a peek inside:
The Person I Marry from Bower Books on Vimeo.
The Person I Marry is a hardback gorgeous enough for the coffee table priced at $11.99.
To read my Crewmates' reviews of this book, please go here.

Bower Books gave me a digital copy of
The Person I Marry
to review. I was not paid for this review and am not
obligated to provide a positive review.