We naturally look for something familiar in the new.
Scruble Cube
is no exception. A blogger for Forbes calls it "
Scrabble With A Twist
".
My
first impression was a Rubik's Cube with letters. Upon closer inspection, our family has discovered that Scruble Cube has multiple uses for a wide range of ages and is lots of fun.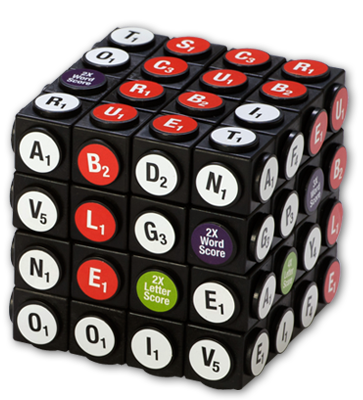 The makers of Scruble Cube have given us a letter and word based game that can be used simply for the fun of it or for academic purposes or both. The 4 x 4 cube twists vertically and horizontally like the puzzle cube with blank colored squares, and the object is to spell words on the sides instead of matching colors.
According to the company, Scruble Cube is appropriate for the 8+ age range, (there are ways to use it with younger children, too) and retails at $24.95, and comes with the cube, one pad of score sheets, and an hourglass (sand timer) along with a sheet of instructions and a getting started guide. The cube has 96 letters on rows that twist, and each letter has a point value. Scruble Cube gives players an opportunity to boost points with Wild Card and 2x and 3x word score cubes.
This statement is so important that I'm taking it straight from the press package:
"
At Scruble Cube headquarters, we believe that 'engaging each other through play' is important. Many life skills, that are sometimes lost, come from playing together - team work, good sportsmanship, problem solving skills, listening skills, oral communications, and strategic thinking
."
I agree. And Scruble Cube does the "play" part well. Any toy that makes play and interaction the focus with learning an important background piece rates high with me.
We have not played competitively against one another with the Scruble Cube at my house. I have one child who is a Rubik's Cube expert, who understands the algorithms for solving the traditional cube, and getting letters in the right places is easier for him. And I have one who knows more vocab than the sibs. And I have one who is developmentally delayed and struggles a bit with all of it. For families whose members whose developmental range is really wide or whose children who are poor losers (or who are poor winners), the fact that we are able to compete against our
selves
, trying to beat our own best score, is a huge positive.
For a family with younger children, the cube is a tool for learning letter recognition or for linking sounds to letter shapes. (Which letter makes the "buh" sound?)
In our autism intervention, Scruble Cube is a super activity for practice sharing attention, for guiding and apprenticing, and for referencing a next step and for higher level objectives of creative problem solving. Scruble Cube is a really nice background activity for developmental, relationship intervention.
We have handled our Scruble Cube with care and it has remained in good working condition. The cube layers twist and turn with ease. My Rubiks Cube expert gives it a thumbs up in that department.
Scruble Cube is a two-fer, offering both play and academic value. Multiple-award-winning Scruble Cube offers owners an online bonus with "
lessons
to help teach math, language, logic, spelling and/or science" according to the press packet.
Scruble Cube would be a great travel toy, doctor's office waiting room toy, toy to put in the bag for a sib's baseball game. It would make a super Christmas gift or donation to a school or co-op class.
We continue to enjoy Scruble Cube.
To read my Crewmates' opinions of Scruble Cube, please go
here
.
Scruble Cube sent me a Scruble Cube to review. I was not paid for this review and am not obligated to provide a positive review. I get to keep the Scruble Cube.