Latin class.
*yawn*
I automatically think a couple of things, "
boring
" and "
why bother
?".
A video based Latin program - really?
A talking head - oh my - all I could think was "
even more boring
" and "
WHY BOTHER
?!"
Guess who is surprised by how much she likes and enjoys Visual Latin, a Latin program in a video format?

ME

!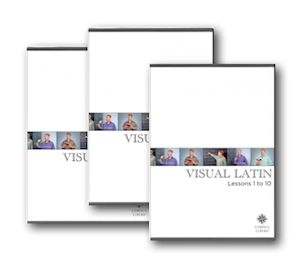 Visual Latin sent me a DVD with Lessons 1 to 10. (There is an online option as well.) The DVD contains 35 tracks that include five introductory tracks and the 10 lessons which are presented in three parts, a grammar lesson, a sentences lesson, and a reading lesson, with a worksheet (which I download and print) at the end. Each lesson is what I'd call short - between 4 and 10 minutes long - with yes, a talking head in front of a chalkboard - and it is a delightful, funny and interesting talking head at that. My favorite teachers were (are) the ones who are so excited about their topic that their excitement is contagious and sucks me into it. Dwane Thomas is
that
kind of teacher for me, even in video format.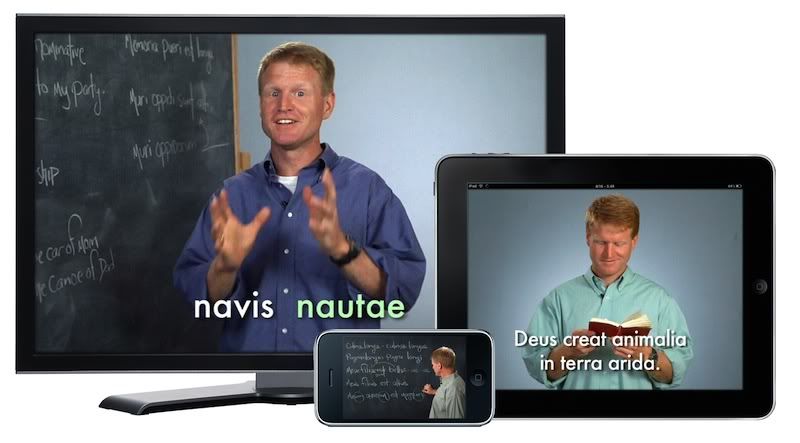 SIDEBAR: When I learn that I am chosen to review a product, I like to find that company on facebook and "like" or follow them. I get a broader picture of the company and an occasional discount code.
I like trivia. Thomas offers little asides, more in-depth info about a root word or phrase that offers me insight that gives me deeper, richer knowledge about the meaning of a word in English. Here's an example that Thomas posted on
facebook
a couple of weeks ago (a word he mentions in the 11-minute-long "Why Study Latin?" opening of the DVD):
Dwane Thomas has an incredible sense of humor. I'll give you an example of something he said that made me laugh out loud. A couple of weeks ago, he tweeted, "
My wife's favorite: Veni, Vidi, Visa - I came, I saw, I shopped.
"
I learned that I really like the video format, which allows me the opportunity to watch a segment multiple times. I like learning Latin meanings; yes, I understand English more clearly.
Visual Latin is recommended for individuals age 9 and up is a bit advanced for my homeschooler with special needs, and I encourage you to check out the free samples to get a feel for the program and whether it is developmentally appropriate for your learner. I do like the shortness of the segments - I think we'll be able to use this with my homeschooler sooner rather than later because of the structure of the lessons. I would have loved this program when I was in middle school or high school and I am enjoying it now as a 40-something mom. My school-building-schooled 7th grader would be able to use the DVDs with no problem (he doesn't have time now unless I pull him out to homeschool, although I am leaning toward having him do a few lessons over fall break as we are again considering homeschooling him).
One of the perks of homeschooling, in my opinion, is that I get to learn again alongside my homeschooler. This is one program that makes learning Latin fun for parent and student, and the ease of a video program means no prep-work for the parent, it means we can work at our own pace, and that we can revisit any lesson whenever we need to. I really like Visual Latin!
All of the specs are
here
, including how the course counts for credit.
Lessons 1-30 are priced at $90
here
, on sale at the for $80.
Watch a sample lesson,
here
. There are more freebies
here
.
To read my Crewmates' reviews of this product, go
here
.

I was given a copy of the first 10 lessons of Visual Latin on DVD to review. I was not paid for this review. I get to keep the DVD. I am not obligated to provide a positive review.