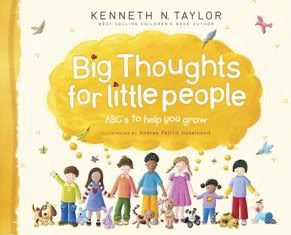 Big Thoughts for Little People
by Kenneth N. Taylor
Ages 3-7
Hardcover retails for $14.99
Best-selling children's book author Kenneth N Taylor and illustrator Andrea Petrlik Huseinovic have published a new book:
Big Thoughts For little people, ABC's to help you grow
. It is written for young children, and I requested it because I'm looking for developmentally appropriate books for my daughter who is playing catch-up, developmentally.
She and I have enjoyed this book!
I like the way Taylor set up the text and Huseinovic's illustrations are delightful. It's a winner from beginning to end.
Each letter of the alphabet has two pages. On the left side of the fold is a giant letter accompanied by four pieces of what I'll call "text". First is a short poem that uses the letter several times. Second is a short paragraph, each five or six sentences in length, that talk about something that is happening in the illustration on the right side of the fold. Third are three questions for the child and parent to ask and answer. And last, is a Bible verse (some from the Old Testament and some from the New Testament) that is related to the poem, paragraph, questions and illustration.
The illustrations are full of items and actions that begin with the corresponding letter.
It's adorable!
RDIers, the "same but different, different but same" "variations on a theme" possibilities are big in this little book. My daughter becomes quite anxious when she sees what she thinks is "too much" text on a page. When I opened the package and began to look at the book, she curled up next to me, and I waited for her reaction. Our first read-through, we read JUST the poems and looked at the pictures. We didn't try to read the paragraph or answer the questions until a later read-through. We've really enjoyed the book. I think it would be a wonderful addition to a church nursery or toddler room or a sweet gift for a baby or toddler.
* Mama Buzz, and reviewers, were provided with a complimentary copy of this book for blog tour purposes* "This is a Mama Buzz review. The product was provided by Tyndale House for this review."